There are some childhood milestones I dread, though I know they must (and should) happen.  The advent of the "why" question is one. But the one that I truly detest is the move from the crib to the toddler bed. This is compounded by our Manhattan living situation – three kids in one room.
When one of my twins, now 8 years old, climbed out of her crib and walked into the living room during nap time at around 21 months, we bought crib tents to keep them both contained.  About 8 months later, when they were about 2 and a half years old, and we switched them over to toddler beds.  They were unable to open the door to their room, so that helped. They also played together until they fell asleep.
Scarily, crib tents that appear to be similar to the ones we had are now recalled. So that is not an option for my third daughter, who will be 2 and half next month.  The mattress in her crib, said crib being a floor model my mom and I bought for a bargain price, was at the lowest setting, and it was very low to the ground.  But, last month, she started to get her legs over the rails.  Plus, the crib was breaking –my husband had books underneath it to keep it stable.   So much for the bargain.
It was time to buy the toddler bed.  She was very excited when she saw it.  "My big girl bed!," she shrieked when we installed it in the room she shares with her sisters last week.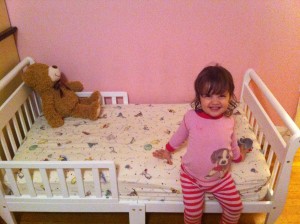 The excitement lasted less than an hour.  At bedtime, she refused to go in it.  All the kids go to bed at the same time, ideally (though rarely) around 8:15p, and we closed the door to the room at 830p, hoping she would relent.  Nope.  My husband ended up laying on the floor next to her until she went to sleep.
Things got worse. This week, one of my daughters is going to ice skating camp and on some days that means a 6am wakeup call to start a  long day at camp.  She needs sleep.  She decided last minute she wanted to go to the camp this week; the decision collided sharply with the trashing of the crib and the installation of the "big girl bed."
Two nights ago, the toddler ran around the room and then cried while the twins tried to sleep.  The situation evolved into a giggle fest with all three of them.  "But Mommy, it is not us," one of the twins said when I came in and reprimanded them. "She is running all over the room and dancing," she said, pointing a finger at her little sister, who was grinning.  I put the toddler in our bed while I read (and refused many requests by her to play on my iphone) and we both fell asleep together a little after 10pm.
Last night, after a few minutes of crying, she got out of her toddler bed and kept trying to get in bed with each of her older sisters (in turn), singing an improvisation of "Doe a Deer" over and over again, quite loudly.  This time, I laid down with her in her little bed and she stayed there for a few minutes, but five minutes after I left (I was baking banana bread, plus I had to get ready for our early morning rink trip), I found her in the kitchen.  The realization slowly sank in. She can open the door.
We did the game of me leaving her in her bed and her coming out to the kitchen a few more times. She ended up sleeping with me, again.  While in my bed, she actually asked a few more times for the "big girl" bed, but when we approached it, she started crying (waking up the twins) and asked for "mommy's bed."  Too many nights in "mommy's bed" and we may be setting a pattern that we do not want. And my very tall husband is not happy with the bed space he gets with this arrangement.
Our current strategy is to skip her nap to tire her out – not a fun option for my husband, who is with her all day, and we run the risk of the terrible overtiredness at night.   He said today she fell asleep on the living room rug for 45 minutes midday.
Crying it out is not much of an option for us at all, given that it cheats my twins, especially the one who wants to get up early, out of their sleep.  Plus, a latch on the door to prevent her from opening it and running out of the room is tricky too –  if I latch it from the outside, the twins cannot get up to go to the bathroom (as one often does).
My patience for laying next to her until she goes to sleep is limited.  My husband has more, but he too has a lot to do at night to get ready for the next day (laundry being an important task given the skating camp twin has limited skating clothes).  Does anyone have any other strategies?