Baking biscotti makes me feel like a better mother.
In December 2005, when the twins and my legal career were about a year old and I was struggling to figure out how to be a mother and a lawyer at the same time, a friend, a paralegal at my firm, gave me a recipe for biscotti. 
We had been talking about holiday traditions and I lamented that during the holidays I was more aware of my "undomestic" role. That many nights I just swooped in to give the kids, already bathed and fed by my husband, a kiss.  That I did so little that I felt "traditional moms" do.
One day, there it was, next to a cite-checked brief, on my desk. "It's a good recipe," she told me.  I stayed up late that night and made biscotti.
As a kid, I never loved art that much, but building something, with instructions I could toy around with a little, was fun.  The biscotti recipe was just the right balance of difficulty for a novice baker like me. I felt like it was a baking accomplishment, but it was not that complicated or time consuming.  My first batch was good, but left room for improvement. I did not have time to bake much, but every few weeks I made them again, playing around with the recipe and learning.  Sometimes, if I could bake at an hour they were awake, the twins sat on the counter and watched.  Later, they helped.
When the twins were in nursery school, we were asked twice a year to bring an ethnic dish to their celebrations. I was stumped at first. But the biscotti saved me. (So what if biscotti is technically Italian and we are not?)
Each time I presented a plate of homemade biscotti, I felt like Superwoman. Look at me, I am
baking the bread AND bringing it home.  This felt especially good when other things seemed to be falling apart. I knew baking was not a testament to my parenting skills. I knew that it did not really matter that much practically – we could buy some pretty good biscotti (and so many culinary goodies) in Manhattan.  But I enjoyed being a temporary June Cleaver, trading in my suit for an apron.
A friend confessed to me a few days ago that she too felt "amazing" when she brought homemade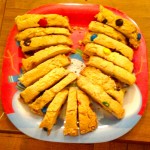 cookies to her son's school. She felt less like the mom who had to run to work, leaving her son in the care of a sitter. She was the mom who was feeding her son and his friends cookies straight from her oven after she carefully pressed the dough. "Good mommy," her son said to her, proudly noting that all of her cookies had been eaten.
I haven't made biscotti in a while, but this week, each of my three kids has a winter party in their classroom.  So I trotted out the recipe to make for the party of my youngest, now in nursery school. She was not that into the biscotti at the party (she went straight for the brownies), but when the twins saw them, they grabbed the familiar treat.   "You'll make this for my party?" one asked. I sure will.
The recipe with my notes, suggestions and improvements welcome:
Combine in large bowl:
2c flour
3/4c cornmeal
1 ½ tsp baking powder
½ tsp salt
Beat in separate bowl:
3 eggs
1 c sugar
Add flour mixture to egg mixture until just combined. (It will be dry and I have occasionally added a drop of milk to help mold it, but too much will make it too sticky.)
Add in 1)½ c chopped nuts w 1 tablespoon orange or lemon zest; or 2) ½ c chocolate chips (I like mini chocolate chips); or 3) ½ c M&Ms for some color.  I have also made them plain, with just a touch of vanilla, or plain with some cinnamon and nutmeg.
Line cookie sheet with parchment paper.  Make dough into 4 by 11 inch rectangular logs on the sheet (two will fit on the sheet).
Bake logs for 25-30 minutes at 325 degrees and remove the sheet from oven.
After about five minutes, cut the logs diagonally in desired thickness. I usually get about 12-16 per log.
Lay them sideways and bake for 20 minutes at 325.
For softer biscotti, reduce the cooking time (I have done 20 minutes and then 10 minutes and slice the biscotti a tad thinner.)